You may know De Morgan volunteer Keith better from the galleries at Wightwick Manor, where he regularly welcomes visitors and discusses the artworks with them on person. Since he's been able to do that much less in 2020, he has kindly written this blog post instead, in order to carry on sharing the De Morgan story whilst the galleries are closed.
Iznik ceramics were produced during the 15th to 17th Centuries during the height of the Ottoman Empire. The name of these ceramics was taken from the city on which production was centred. The innovative technique produced a bright white base that made the four traditional colours of turquoise, cobalt, malachite, and coral stand out under a thick transparent glaze. In addition to beautifully shaped ornamental jugs, vases, bowls and plates, tiles were produced in abundance to decorate the interiors of mosques and other important buildings with symmetrical designs of stylised flowers. The style evolved and compositions became freer, more relaxed, naturalistic and experimental. As the Empire declined so did ceramic production and the technique was consigned to history. By that time, the influence of the Iznik work crossed the Bosphorus into the southern Mediterranean countries of Europe and beyond. Examples of the work had been preserved and displayed in museums.
Iznik Charger
The Arts and Crafts movement led by John Ruskin and William Morris became very popular from the mid-19th century onwards. The primary aim was to change the values of society, turning away from cheap and often poor-quality modern mass production and reviving the values of decorative art and crafts through paintings, sculptures, textiles, jewellery, furniture, and metalwork. Its popularity rapidly spread across the globe.
After attending university, Morris had trained as an architect and subsequently set up a business designing and manufacturing wallpapers, tapestries, carpets, stained glass, and tiles. His success was guaranteed by his close collaboration with Edward Burne-Jones, Dante Gabriel Rossetti, and other notable artists of the time. The Pre-Raphaelite Movement, to which they were closely aligned and of which Rosetti, William Holman Hunt and John Everett Millais were a founding-members, became pre-eminent in the art world. Their influence is apparent in the vast array of objects retailed by Morris & Co., Liberty's and others. Aside from his prolific output of paintings, Burne-Jones was also a designer of stained glass, tapestries and carpets for the company.
In 1882 Morris wrote "To us pattern designers Persia has become holy land, for there in process of time our art was perfected, and thence above all it spread to cover for a while the world, East and West." Little wonder that his designs centred on the patterns of the exquisite Iznik work.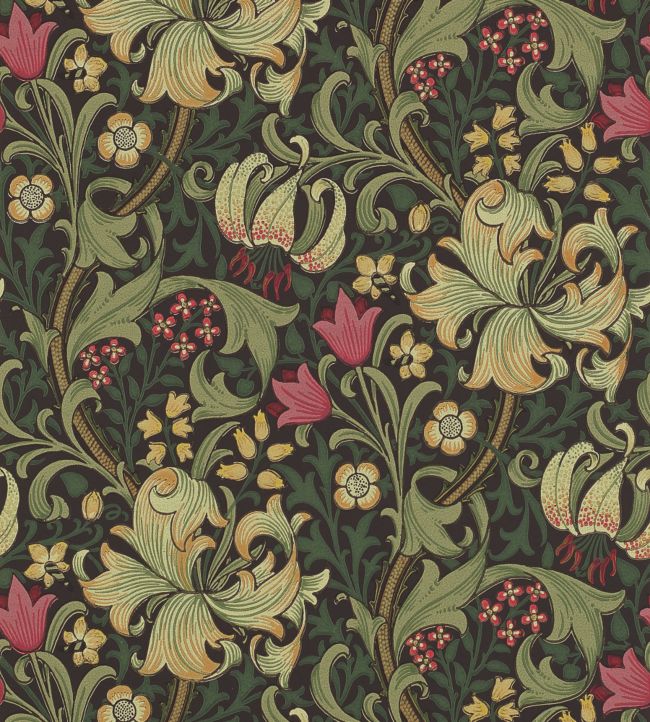 William Morris, Golden Lily
A man who was to become the most important ceramic artist of the age, William De Morgan, met Morris in 1863 and the two became lifelong friends. De Morgan had trained as an artist, but could more readily be described as an inventor, designer, and scientist. Initially he was a stained-glass designer and painter, but became fascinated with the science behind the production of ceramics and devoted his life's work to perfecting the technique behind the glazes, rediscovering the lost technique of the Persians. DeMorgan's growing ambitions led him to the establishment of his own pottery, where he became both designer, innovator and manufacturer.
De Morgan was chosen by Lord Leighton for a commission to complete the decoration of an extension for his house in London, with Islamic and Damascene tiles brought back from his grand tour to the Middle East and Syria. In need of more tiles, he turned to De Morgan to manufacture modern copies. Those copies proved indistinguishable from the originals and so his reputation was established. Such grand displays became very fashionable amongst the upper classes, creating a large market.
Arab Hall at Leighton House, tiles installed by William Morris
De Morgan's technique of applying the glazes to patterns carefully copied onto tracing paper resulted in a finished product that could be manufactured precisely and in sufficient quantity that allowed intricate patterns to be turned into pictures. His fertile imagination and sense of humour extended into his creating an extensive catalogue of unique plates, chargers, dishes, jugs, and vases that depicted mythical creatures, fish, birds and other floral patterns, not only in the subtle colours of his predecessors, but also in a range of fiery reds on a white background and more muted golds and browns.
He always drew inspiration from the Islamic art he had seen working on Leighton's commission and the collection of the South Kensington Museum (now the V&A) which was a two-minute walk from his home and which he visited regularly.
The Arts and Crafts style of decoration remained popular beyond the turn of the century and into the early 1920s.