Pre-Raphaelite Circles: The De Morgans and the Lovelaces
2nd October @ 12:00 pm

-

1:00 pm
Mary Caroline Stuart-Wortley married into the Lovelace family, inheriting an artistic, mathematical and literary legacy. But who was she?
An influential triumvirate entered the Slade School of Art during its first years: Mary Caroline Stuart-Wortley, Mary Fraser Tytler and Evelyn Pickering. All married relatively late in life, becoming in turn Mary Countess of Lovelace, Mary Seaton Watts and Evelyn De Morgan. Of the three, Mary Lovelace's posthumous reputation is the least known, largely due to her own reticence. She published a memoir of her husband, Ralph King Noel Milbanke, Lord Wentworth, later 2nd Earl of Lovelace, the son of Ada Lovelace and grandson of Lord Byron, but left few personal records pertaining to her own achievements. Mary Lovelace was a stalwart supporter of the Arts and Crafts movement, a patron of C F A Voysey and C R Ashbee.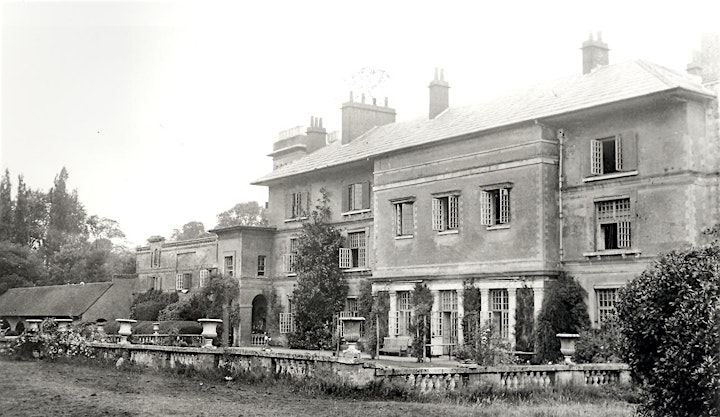 The De Morgans were frequent visitors to Ockham Park, near Ripley (pictured); Ralph and William had known each other since childhood, Augustus De Morgan being his mother's mathematical mentor. At their London home, Wentworth House, Swan Walk, on the Chelsea Embankment, the Lovelaces cultivated a broad social circle: Lord Wharncliffe, Lady Dorothy Neville, Sir Redvers Buller, the historian W.H. Lecky, Sir Francis Galton, the anthropologist and Henry James. Their neighbours included her brothers, portrait painter Archie Stuart-Wortley, John Everett Millias's protégé, and Charles, 1st Baron Stuart of Wortley, a great friend of Elgar. However, I am not sure she approved of the antics of her brother-in-law, Wilfred Scawen Blunt, who married Ralph's sister Anne Isabelle. My lecture encompasses Mary's career as a painter, her involvement with the Arts and Crafts movement as well as unpicking her complicated family ties and friendships.
Dr Anne Anderson FSA
Hon. Associate Professor University of Exeter
Tutor V&A Learning Academy
With a first degree in archaeology and a PhD in English, Anne was a senior lecturer in Art and Design History at Southampton Solent University for 14 years. She has curated four national exhibitions: Ancient Landscapes, Pastoral Visions: Samuel Palmer to the Ruralists (2008), The Truth About Faeries (2010-11), Under the Greenwood: Picturing the British Tree (2013) and Beyond the Brotherhood: the Pre-Raphaelite Legacy (2019-20) for Southampton City Art Gallery and the Russell-Cotes Art Gallery and Museum, Bournemouth. She has held several prestigious fellowships including Fellow of the Huntington Library, CA (2008/09 and 2018/19) and Fellow of the Henry Francis DuPont Winterthur Library and Museum (2009/10). Her career as an international speaker has taken her all over the world, including Jersey, Spain, Germany, New Zealand, Australia, Canada and the USA. Her recent books include Edward Burne-Jones The Perseus Series (2018) and Beyond the Brotherhood: the Pre-Raphaelite Legacy (2019), both available on Amazon.